Wellbeing Education that Feels like a TREAT, Rather than a Treatment Plan
Seminar/Forum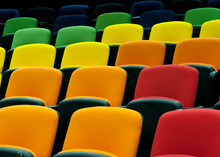 Theatre Q230, Level 2
Melbourne Graduate School of Education, Kwong Lee Dow Building
234 Queensberry Street
Map
This event has now reached capacity. To be added to a waitlist please contact education-events@unimelb.edu.au.
Designing school-based wellbeing education so it feels like a treat, and not a treatment plan, can be challenging. The alarming statistics on youth mental illness can make it very tempting to focus primarily on responding to mental illness and fixing what's gone wrong.
However, if we introduced wellbeing education that was a TREAT to learn about – Tangible, Relevant, Evidence-based, Alluring and Transformational – young people may want to learn and practice wellbeing skills, retain more information that they can apply throughout their life, and feel better supported, motivated and confident about managing and promoting their mental health.
Wellbeing education in schools needs to improve by dovetailing best practices in health, sport and wellbeing science as well as technology and education. It should strive to equip, inspire and empower young people to be proactively involved in shaping their own well-being destiny. Applying the TREAT framework can help with achieving these desired outcomes.
Inaugural Professorial Lecture presented by Professor Dianne Vella-Brodrick Gerry Higgins Chair in Positive Psychology, Centre for Positive Phychology, Melbourne Graduate School of Education.
Pre-lecture refreshments will be served from 5.15pm. The lecture will begin at 6.00pm.
Please note that due to the venue capacity, places are strictly limited at this event.
Presenter
Professor Dianne Vella-Brodrick

Gerry Higgins Chair in Positive Psychology, Centre for Positive Psychology
Melbourne Graduate School of Education, University of Melbourne

Professor Dianne VellaBrodrick (PhD) holds the Gerry Higgins Chair in Positive Psychology and is Deputy Director and Head of Research at the Centre for Positive Psychology, University of Melbourne. She founded the Australian Positive Psychology Network and serves on the International Positive Psychology Association Council of Advisors. Dianne is the inaugural Director of the Masters of Applied Positive Psychology course. Her research interests include the development and evaluation of wellbeing programs, particularly in the areas of positive education and performance optimisation. Dianne is devoted to working with young people to improve their wellbeing using the latest technology and psychophysiological indices.